Additional Services Now Available
Health and wellness journey for each person is never the same.  Patient Choice is creating a unique diagnostic and solutions center which includes some of the following health professionals:
Medical Massage Therapist
Naturopathic Doctor
Epigenetic and Detox Specialist
We have hand selected specialty products and services to help each individual reach their maximum potential.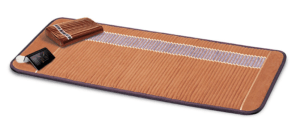 The core of the BioMat technology is a combination of far infrared rays, negative ion, and the conductive properties of amethyst channels. These three powerful health stimulators are combined in a single, easy-to-use product with remarkable benefits.  It's a safe and natural way to own the ability to enjoy life for years to come with FDA approved temporary relief from minor spasms, minor sprains , minor strains, minor joint pain associated with arthritis, minor muscle pain and more. This highly effective therapy is now available to medical professionals and home consumers who want to improve health and well-being with products based on Nobel prize-winning scientific research pioneered by NASA and developed using pure, natural materials.
If you need to release stress by relaxing your muscles and enjoying soothing Far Infrared Ray heat, simply lying on the BioMat promotes a feeling of well-being for a healthier mind and body. The US FDA's Medical Device 510K indications for use are as follows:
– Relaxation of muscles
– Increase of local circulation where applied
Microcurrent therapy (MCT) is a non-invasive, highly effective pain relief, rehabilitation and peak performance system.
Microcurrent therapy can benefit patients by:
• Improving cellular metabolism of injured tissues
• Relieving pain in nerves, joints, muscles, and tendons
• Increasing circulation and decreasing inflammation
• Accelerating injury recovery
• Increasing range of motion
• Detoxing the body at a cellular level
• Providing advanced healing for sciatica, tendonitis, TMJ, fibromyalgia, bursitis, carpal tunnel, headaches, back injury, and more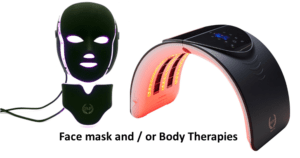 A unique, non-invasive anti-aging device that features 3 LED color lights, infrared lights, and EMS (Electric Muscle Stimulation) technology to help you achieve a fresh, radiant, and young appearance.
Beauty is more than just skin-deep; it's the rejuvenation of natural balance of the skin.
100% safe, The LED Extreme Bio NASA Facial Mask serves as an essence of true beauty and helps to enhance skin vitality and nutrition.
This amazing device has shown to be effective for the treatment of several aspects of skin aging including scarring, fine wrinkles, mottled hyper pigmentation, tactile roughness, and shallowness.
LED Extreme Bio NASA Facial Mask is inspired by NASA technology, which uses a precise combination of different light wavelengths to produce anti-acne and anti-aging effects. 
Red LED light stimulates the growth of collagen and combats wrinkles on the skin. It can penetrate the skin deeply, to accelerate tissue metabolism and improve the appearance of fine lines and aging skin.
Blue LED light enhances cell energy and has a good metabolism facilitating effect. It helps to balance the color pigment, reduce fine lines, and speed up the healing process of the skin.
Purple LED light therapy is a very effective anti-aging and acne treatment. Combining the best of both Red & Blue light therapy, it results to maximized stimulation of collagen production, increase oxygen supply to the skin, neutralize bacteria, reduce skin oil secretion and supplement energy to skin cells.  Purple LED light therapy is anti-inflammatory therefore it reduces inflammation within the tissues and helps to accelerate the healing process, it is useful for healing blemishes, repairing sun damage, fading scars and improving the overall complexion. It also reverses some of the effects of aging such as wrinkles, pigmentation, sagging skin, and shallowness.
Call today for availability of services